Are you currently wondering where the spark has gone in your relationship? Looking for some easy tips and tricks to bring back the feelings of love, romance, passion and FUN?
The Connection Booster is a simple five step program that helps couples boost their happiness, get reconnected and relocate that loving spark!
Who is The Connection Booster for?
If you're currently:
#1 In a relationship SLUMP thinking, 'is this all there is?'
#2 Feeling lost and like there's something missing in your relationship
#3 Looking to relocate those initial, Honeymoon-style sparks
#4 Desperate for something to help your relationship get back on track (something that doesn't cost an absolute BOMB!)
You are in the RIGHT PLACE, I made this course for YOU.
The Connection Booster
 was created to support couples who find themselves in a funk and want simple tools to guide them back to feeling excited and passionate about their relationship!
How does the course work?
The course is a series of written modules with plenty of couples activities and actionable tips to get you going (get ready to work!)
You'll work through a simple five step process, each step building on the former and focusing on a different area of your relationship.
The course covers the following steps:
Taking Stock of Where You Are Now.
Using a tailor-made tool you'll take an audit of where you're at in your relationship honestly right now. You'll be given the guidance to look at all the key areas in your relationship and be supported to identify and analyse what needs changing and what's already awesome. This is the foundation you'll build upon during the rest of the course!
The Importance of Goals.
Once you know where you're at you'll be able to start exploring and planning for where you want to be! Together you'll identify what you want to improve upon and/or change. You will be guided through the goal setting process and end with a solid plan on how you'll achieve self-selected relationship goals that will keep you connected and moving forward.
Learning to Communicate with Love.
Using my FAVOURITE (and NY Times Best Selling) communication tool you'll be shown the way in communicating with more love and less conflict. You'll be able to identify where your communication is failing at the moment and how you can make subtle changes to show your partner you respect and care for them.
Prioritising Your Relationship.
Once you've got your communication down it's time to think about how and if you prioritise your partner. During this step you'll look at what "quality" time actually means in your relationship AND how you can make this a natural (and easy) part of your day so everyone feels appreciated. You'll be guided through a series of exercises to create your perfect 'date' and learn how to bring back the Honeymoon period butterflies!
Working Out What You Want (and Sharing It!)
The final step in the course focuses on desires- what you want, what you need and how to communicate all of this confidently with your partner. You'll discover how to bring more intimacy into your relationship and discover top tips on keeping things exciting (not intimidating!) in the bedroom.
What does the course include?
Seven easy to read modules FULL of guidance that I've used with lots of couples previously
Practical couples exercises and activities in each step (the course isn't all theory!)
Over 67 pages of printer-friendly workbooks and activities to support your learning (and get you working!)
The exact tools I've used to boost my own relationship happiness (that I wish I'd known about YEARS ago!)
So, what will you learn exactly?
By the end of the course you and your partner will be HAPPIER because you will feel:
MORE connected to each other
MORE passionate about your relationship
MORE intentional about your relationship goals
MORE energised to move forward together
MORE aligned intimately
And, MORE in tune with each other!
You will get to this place by following tried and tested methods and using tailor-made tools.
The practical guidance and activities within the course will help you learn the following:
#1 How to identify what's currently missing from your relationship
#2 How to set goals for your relationship that actually matter and you can stick too
#3 How to communicate more effectively in the long term and when in conflict
#4 How to prioritise your relationship and your partner EVERY DAY without it feeling difficult (or like a chore!)
#5 How to share your wants and needs with confidence
#6 How to have difficult conversations with your partner easily
#7 How to keep the spark alive, and keep things feeling fresh, beyond the course end!
The Connection Booster Course Curriculum: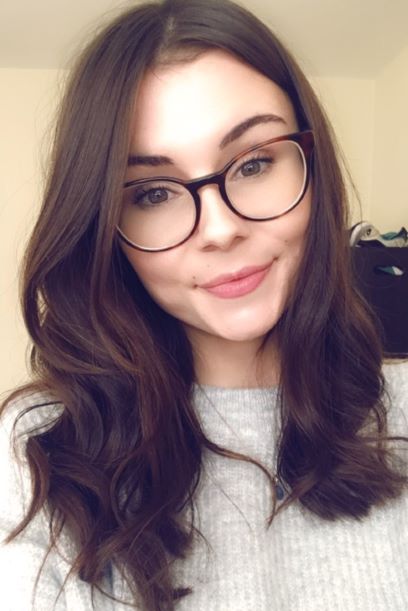 Who created
this course?
Hi I'm Helen Alison!
I'm a qualified sex and
relationships educator and
trainer from the UK :)
I run The Good Sex website
where I've helped over
300 people reorganise their
love lives so far.
Find out more about why
I created The Connection
Booster below!
And...WHY?
Quite simply, I created this course because I've been in that sh*t space that is relationship DESPAIR and hate the thought of other couples being there too.
I've been that person desperately Googling 'what to do when the sparks go out' and 'my relationship is going down the toilet WTF do I do?' late at night.
And, do you know what I wish I'd found?
#1 Someone to tell me that relationships ebb and flow and if you're in a bad patch it's not completely YOUR FAULT or totally UNFIXABLE.
#2 Some simple advice and tools that would slowly help me turn my relationship around and reconnect with my partner.
And that, without sounding super cheesy, is why I created The Good Sex and this course.
Because I want you to know: you're not alone AND actually you and your partner can do something about it if you're feeling a like you've hit a bad patch in your relationship.
This course was made for you.
FAQ's
Do you offer refunds?
Of course! If you finish the course, complete the couples exercises and implement the techniques and feel nothing has changed, you can email me within 30 days of purchase for a full refund.
Can I complete this course without my partner?
No, this is a couples course and has been designed as such. For example: all the activities depend on you communicating and working with your partner to progress- sorry!!
How long will the course take me and my partner?
I recommend setting aside 10 days to complete the course. The course is designed as a short course because the results depend on you being present with your partner and intentional about progress. Dragging it on for weeks will mean you lost momentum, impact and motivation AND although you could complete the course in less than 10 days, you need to make sure you leave time and space for reflection- don't rush through!
I have a specific issue in my relationship, is this the course for me?
This course could be for you if you need support with: communication, sharing your wants and needs, feeling connected to your partner, moving forward in your relationship. HOWEVER, this course is a short course and it's a general course supporting couples connection. I wouldn't recommend you complete this course if you're hoping to solve any specific relationship issues around things such as guilt, abuse, infidelity. I would recommend you seek external support for those- you deserve more specific help with those things <3
I have a question that is not here, can I ask you?
Yes of course! Contact me (Helen Alison) at [email protected] and I'll respond ASAP!